Water Damage Got You Down? Let Scavello Restoration Revive and Remediate Your Hatboro PA Home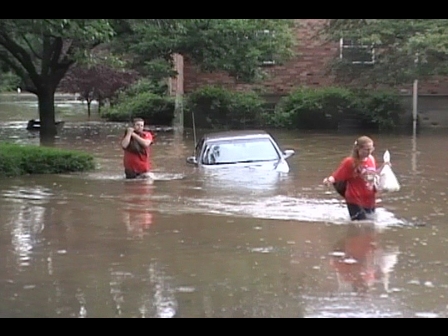 Pennsylvania homes are old and historic, which means they're bound to cause homeowners a bit of trouble. Residents of Hatboro PA know the plight and privilege of living in a historic town, as the older homes in this Pennsylvania borough have constant creaks that are part of the charm, but also intermittent leaks which lead to water damage and mold and mildew. Furthermore, there are different rules, laws, and regulations in place when dealing with historic homes and buildings. This can cause a headache for the homeowner.
Living in Hatboro, where the creek runs right through the town, it's important residents have a skilled water damage and flood restoration professional by their side.
When the creek rises over its banks, Hatboro PA residents need a water removal specialist who can quickly and efficiently remove the water flooding their home or business to prevent water damage, mold, or mildew.
Commercial Restoration in Hatboro PA
Your business is central to the small-town charm and local economy of Hatboro, and it's important to us too. We here at Scavello Restoration recognize the significance of local small business owners like you throughout Hatboro's history, and we know how important it is for you to get your business up and running as quickly and as painlessly as possible.
From water removal and water damage restoration to fire damage restoration and smoke odor removal, we here at Scavello Restoration do whatever it takes to quickly and efficiently transform your property back to its original condition, so it's like the incident never happened.
If your Hatboro PA home or business has been damaged or is flooded, contact us right away. Scavello Restoration is ready to put our decades of restoration expertise to work for Hatboro residents!
Trust Scavello Restoration to Restore Your Hatboro PA Home or Business
Call Scavello Restoration anytime, day or night. Our team of experienced, certified, highly trained restoration experts are ready to respond to your call and fulfill your water removal or restoration needs. Whether it's water extraction and flood restoration for your business on York Road, or mold removal for your home after a flood, Scavello Restoration is the only call you need to make!
We are proud to be a local company that serves local companies large and small. We're also proud to have over 25 years in the restoration business. Our service is unmatched and has earned us the trust and confidence of homeowners and businesses throughout Hatboro PA, the Greater Philadelphia Area, and beyond.
Restore your property, protect your investment. If there is water damage, flooding, mold, or mildew to your Hatboro PA home or business, don't hesitate. Call the restoration professionals at Scavello Restoration Services. We'll provide you with a FREE QUOTE and help you to determine the appropriate course of action, so you can preserve your part of history.
Get back to business in Hatboro PA with a free quote from Scavello Restoration.
Contact Us !