Smoke Damage and Smoke Odor Removal and Clean-Up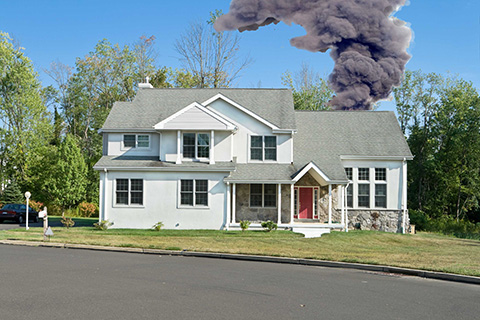 Smoke damage is a type of fire damage that can be caused by both a fire or something else. Smoke can be created by high heat from an inside fire, and also by wildfires and explosions. The important thing to keep in mind when dealing with smoke damage is that it can cause significant health problems, structural damage, property damage and financial loss.
While fire may be localized, only affecting a small area of your home or business, a slow-burning or smoldering fire can cause smoke to spread throughout the property. In fact, it is often smoke that causes the most extensive damage. Whether it's soot buildup on draperies and upholstery, smoke damage on ceilings and walls or damage to cabinetry, not to worry! Scavello Restoration is equipped to handle all of your smoke damage restoration needs quickly and efficiently. We are pleased to offer our services to homeowners and businesses throughout Harleysville, Pottstown, Collegeville, and Phoenixville, PA and the surrounding areas 24 hours a day, 365 days a year. One call is all it takes for exceptional smoke damage restoration, and we will restore your property to its pre-loss condition so you can get back in your home and on with your life.
If your property has smoke damage it is important to leave the cleanup to an experienced professional. Smoke damage isn't just unpleasant to look at; its residue can be toxic and hazardous to your health. According to the Environmental Protection Agency (EPA) smoke from burning wood contains carbon monoxide, formic acid, methane, volatile organic compounds (VOCs), formaldehyde, and other potentially harmful materials. Smoke from burning upholstery, synthetic materials and plastic can be even worse.
At Scavello Restoration, our experienced crews understand how to safely and quickly perform all types of smoke damage restoration. Not only will we clean and repair your property, but we will sanitize the area and ensure all harmful materials are removed from your home. In addition, we will make every effort to salvage and restore any personal items that have sustained smoke damage, including: furniture, photographs, draperies, rugs, collectables and more. Let our professionals provide you with the services you need to safely return to your property as soon as possible.
With over 30 years of experience serving homeowners and businesses throughout Phoenixville, Harleysville, Pottstown and Collegeville, PA, Scavello Restoration is the only call you need to make for smoke damage restoration services. We are your source for 24-hour response, expert workmanship and excellent service. If your property has smoke damage, don't wait a moment longer. Contact our experienced team, and we will restore your property to its original condition. We can handle smoke damage jobs of all sizes, providing you with the professional service you need and the peace of mind you deserve.
Complete Fire Damage Cleanup and Repair
24-Hour Fire Damage Assistance-Residential and Commercial
24-Hour Emergency Board-Ups
Emergency Cleanups
Over 25 Years of satisfied customers in your area!
Specialized Insurance Claims Help