Water Extraction and Water Removal
About Water Extraction
Expert water extraction starts with state-of-the-art technology. Whether it's storm damage, burst pipe or other flood damage, Scavello Restoration has the experience, resources and equipment to handle all of your water removal needs, whatever the size and scope. Most importantly, we are ready and able to assist you 24 hours a day, 7 days a week, because when it comes to flood restoration, there is no time to waste.
So, if your property has sustained flood damage or has standing water, don't delay. Call us immediately so we can provide you with prompt, efficient service and minimize further damage to your home or business.
610-489-0859
Why is water removal so important?
From leaky water heaters and dishwashers to old plumbing, water damage is perhaps the most common type of property damage we encounter. However, even minor water damage can lead to serious problems in homes and businesses. Damp carpeting, upholstery, flooring and walls can all lead to moisture build up, causing dangerous mold spores to grow and spread in as little as 24 to 48 hours. Water removal and extraction dries out these surfaces, so the conditions necessary for mold growth no longer exist.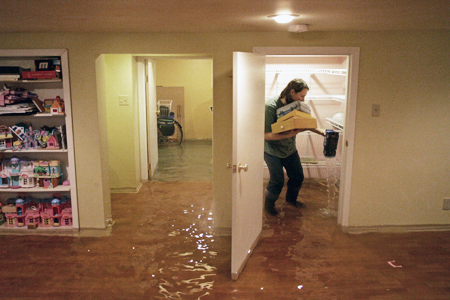 Can't I just dry out the area with fans?
When a property sustains flood damage, water collects under flooring, behind cabinets, in walls, and it often goes unseen. By the time you smell a mildewy or moldy odor or see visible signs of mold growth, substantial damage has already been done. As flood restoration experts, not only do we know exactly where to look, but we utilize the latest in water extraction technology to ensure even hidden areas are free from excess moisture. From water removal to drying and deodorizing, we can handle all of your needs efficiently and effectively. So, you can be confident that your home and personal belongings are clean and free from harmful mold spores and mildew.
When should I call Scavello Restoration?
Give us a call at the first sign of water damage. We are here to assist you 24 hours a day, 7 days a week, and our expert crew can be at your location in Phoenixville, Harleysville, Pottstown or Collegeville, PA within 60 minutes. Our quick response time allows us to take a proactive approach to your flood restoration, saving you the headache and expense of further damage. We are here for you whenever you need us, whatever the size and scope of your water removal needs.
Contact us today for service. Scavello Restoration will rid your property of any moisture and provide top-quality flood damage restoration.
Complete Water EXTRACTION
24-Hour Emergency Water Extraction-Residential and Commercial
24-Hour WATER EXTRACTION / REMOVAL
WATER EXTRACTION Sewage Cleanups
Over 30 Years of satisfied customers in your area!
Specialized Insurance Claims Help