Water Damage Restoration, Fire Restoration, Water Restoration in and around Rosemont PA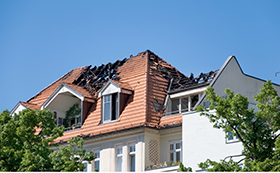 Home of beautiful Rosemont College, Rosemont, PA has served as the inspiration for the setting of 2 major television shows. With its gorgeous homes, pristine parks and unique businesses, it is no wonder! When fire, storms or water damage impact Rosemont homes and businesses, it takes an experienced, local professional to properly restore them — a professional like Scavello Restoration. With over 2 decades in business, we are the area's trusted experts in disaster recovery and home restoration services.
Over the years, Scavello Restoration has earned the trust and confidence of Rosemont homeowners and businesses for our exceptional work in all phases of disaster restoration. From water extraction and flood restoration to fire damage clean-up and smoke damage restoration, we have the experience, resources and technology to respond to your needs 24 hours a day, 7 days a week. From Curwen Road to Airdale Road and everywhere in between, when it comes to Rosemont, PA restoration, Scavello Restoration is only a phone call away.
Water Restoration
Flood damage can be very costly. Whether it's a leaky roof, burst pipe or broken water heater, it is important to address the problem right away, as to prevent further damage. In fact, the biggest mistake people make is waiting too long to call for water restoration service. Prompt response is the best way to ensure the most successful water damage repair. Our crews are available around the clock to provide you with thorough water removal, structural drying and sanitizing. Not only does this prevent harmful mold growth, but if handled quickly enough, we may even be able to salvage furniture, rugs and draperies, returning them to their pre-loss condition. If your Rosemont home or business has water damage, call us immediately. We're here to help!
Fire Restoration
Scavello Restoration has proudly served Rosemont, PA and the surrounding communities for over 25 years. In that time, we have handled fire restoration projects of all sizes and scopes. From fire damage clean up to smoke odor removal, we will do whatever it takes to provide you with an efficient restoration process. We know that you want your commercial or home restoration completed as quickly as possible, and we're here to do just that.
Whether you're near Ashbridge Memorial Park or Agnes Irwin School, don't trust your Rosemont disaster restoration to just anyone — come to the local experts at Scavello Restoration for workmanship and service that's second to none! We appreciate the opportunity to serve you.